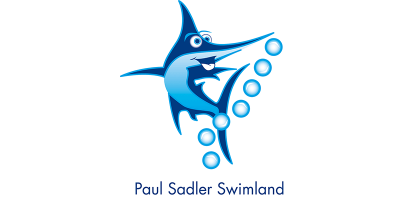 Located:

20-22 Freshwater Drive Riverside Gardens QLD 4814

About Us:

Paul Saddler Swimland, helping babies, kids and adults learn to swim since 1972.

Paul Saddler Swimland invites all of their swimmers to take on the challenge of completing the Swimland Journey. The Journey is divided into four stages, each of which provides many opportunities for small successes, proud moments and some big celebrations!

The first of the four proud moments along the Swimland Journey occurs when children gain their Maxi Pink certificate. These children are considered to be independent survivors who are familiar with the water, and will now be taught freestyle and backstroke. To celebrate this very proud moment they give the child a 'Goggle License' and celebrate with the bell and a big cheer from everyone in the pool! Most children are very excited to be able to use goggles from now on!

The second very proud moment occurs when children gain their Green certificate. These swimmers can now complete 50 m freestyle, 75 m backstroke, 5 minutes treading water and a neat dive! It's now time to learn breaststroke, develop backstroke and freestyle over a greater distance and further extend their survival skills. PSS celebrate this proud moment with the bell and a huge celebration from everyone in the pool!

In recognition of their achievements, these children receive a 'Green T-shirt' and a password to Greenworld. Greenworld is our interactive 'online' environment that contains a cool game and other fun activities. An important part of this stage is our Green DVD, that shows children some of the awesome recreational options that are available to them as they become better swimmers and gives them challenges to achieve. PSS hope that, by now, children can see why swimming lessons are such a good idea and they are enrolled to aim for their Swordy 1km Medal!

The third very proud moment is when children gain their Swordy 1 km Medal. This medal can be achieved at one of our special 1 km swim days, when swimmers from all PSS sites come together to go for their 1 km Medal. Those who complete this huge swim are considered to be swimming literate. Equipped with a 'skill for life', they have the ability to engage in heaps of exciting activities, from competitive swimming, to sailing, triathlons, water skiing and heaps more. The options are endless!

The fourth Swimland very proud moment occurs when children complete the Swimland Journey and achieve their Paul Sadler Swimland Diploma. These awesome swimmers have completed the Charcoal certificate, gained entry into the Sub 45 club (by completing a 50 m swim in 45 seconds or less!), completed the 3 km Gold Swim and successfully completed an open water swim – no 'safe' swimming pool here!

Having accomplished all of these things, children get to receive their framed Swimland Diploma at a special presentation night. PSS like to celebrate this achievement in front of a crowd as we believe the children who successfully complete their Swimland Diploma have shown excellence in all areas of swimming development and now belong to a very exclusive club! This amazing achievement is also recognised on the PSS honour board on our website.

Swimland will always be proud to recognise our students' achievements. PSS trust the celebration of these four very proud moments will empower and motivate kids to complete their Swimland Journey.
Contact Information:

Hours of Operation:

Monday to Wednesday - 8.30am to 7pm
Thursday - 8.30am to 6pm
Friday - Closed
Saturday - 7am to 12:30pm
Sunday - Closed
Website: HERE
Facebook: HERE